John Scroggins began developing the concept for the organization that would become The Baton Exchange in 2006.  His vision was to develop young adults for positively impacting culture and taking value in their vocation.  Since then, the program has evolved into a holistic approach for leadership development, with young adults from almost 20 countries and regions represented.
2006-2007
God started working on the individual pieces in our founder's heart a whole 5 years prior to the actual idea.  In 2001, after graduating with his MBA, John Scroggins had the opportunities to travel abroad and learn about Business As Missions and Marketplace Ministry from some of the contemporary pioneers on the topics.  In 2005, John moved to Columbus, Ohio, to get nearer to a house church plant he was involved in.  Living in a Discipleship House contributed to the community-based experience concept to the developing model of the organization.  There, he recognized the importance of learning from someone who "has already been there," forming the now-foundational idea of a mentorship component.  In 2006, John started developing the name and structure of the organization, "to train young professionals to transform their workplace and marketplace for the cause of Christ, their employers, employees, communities, and nations."  The organization's first name was the WAM House (Workplace As Ministry.)
In the next couple years, John was privileged to make some incredible connections throughout the nation.  By chance, he met a man involved with campus ministry at The Ohio State University named Howard VanCleave.  Howard soon became a Board of Advisors member, connecting John to a number of Christian professors at the university.  Later, at a conference, John was invited to meet with some other men who had a similar vision for an organization in San Francisco. Upon hearing the vision of the WAM House, one of the men, a commercial real estate investor, told John, "I want to buy your first house. You select it and I will finance the purchase with the understanding that you will buy it from me, for what I paid for it, within a couple of years."  John and then fiancé, Angie, did just that, and the man purchased the house. After a couple of years John and Angie purchased the house for what the man paid for it. His financing of the purchase enabled John and Angie to do something they couldn't have at the time. To this day the buyer has not seen the house.  Many divine appointments occurred at the conference, and John came away feeling affirmed in the direction he felt God leading him.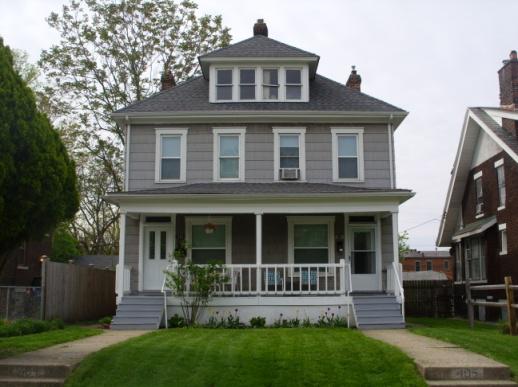 In 2007, John married Angie and they moved into the WAM House. Over time, Angie continued to influence the educational component of the program. Through the year, John continued to develop the training concept for the program, with much input from his mentors.
2008-2009
In 2008, the WAM House became a registered 501(c)(3) Non-Profit. A WAM House booth made its debut at the Annual Conservative Mennonite Conference in Berlin, Ohio, and the original website was up and running.  John and key influencers continued to read, research, and pray for our first trainees.  John designed the logo for WAM House, with the globe and an open door being symbolic of the vision-impact they desired.
In 2009, a local ministry called International Friendships, Inc. (IFI) (www.ifiusa.org) sent three of their ministry interns through the WAM House training program, thus initiating our inaugural year. Our first program residency trainees were from China, India, and Uzbekistan.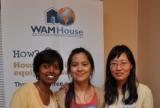 Since our first year, God has connecting us with local, national and internationally-known authors, leaders and pioneers in the marketplace ministry and business as missions movement. We have been blessed to have personal interactions with folks like Stanley Tam, John Beckett, Kent Humphreys, Ken Eldred and Os Hillman. Our guests at the WAM House have included former Fortune 100 business leaders and state government leaders.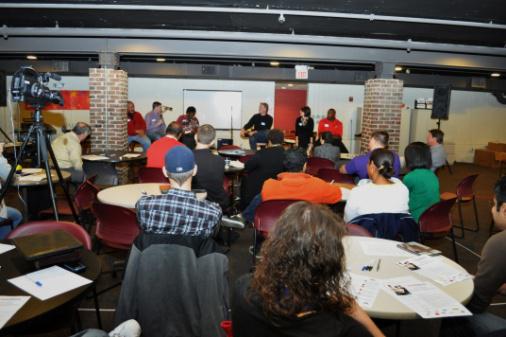 Prior to starting up in the summer of 2009, John had been employed in various Business Development and Marketing Manager roles. In September, his role as Executive Director for WAM House became his full-time occupation. 
2010-2011
Two of our first three participants graduated from the program in June. One of those returned home, working for a Kingdom Business in China. Another went back to her native Indonesia, and sent us a reflection on how to integrate what she learned at the WAM House through her circle of influence in the marketplace. We looked forward to commissioning four more near the end of the program year. It was exciting to see a sense of fraternity as participants sought out graduated participants, as well as to see graduates move into marketplaces around the world.
In October of 2010, the WAM House hosted the first city-wide 20-Somethings & Workplace Spirituality Forum, pulling speakers from different churches from across the city. 20-Somethings as well as seasoned workplace professionals spoke at the Forum. Among those who shared were a former NFL football player, an award-winning Scientist, a Grammy award-winning television producer, a CEO and other highly qualified professionals representing various segments of the workplace. Especially touching was the dynamic speaking of The Reckoning's Tim Troyer, who spoke on the importance of competency, character, and Kingdom Perspective in our work.  In the same year, John became a certified LaRed Business Network trainer and has extended that training to the organization's staff.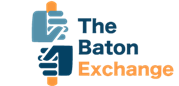 In 2011, The Baton Exchange was launched in the marketplace, utilizing volunteers and training in the WAM House to help young adults in the marketplace.  Curriculum was expanded with Career Competency Workshops, in recognition that soft skills are essential in the marketplace. 
Leadership Retreats were also added to the curriculum, with our first leadership retreat being held at the lakeside cabin of a volunteer, near Senecaville, Ohio. The topic was on leading up, down, and across and was based on John Maxwell's book, The 360 Degree Leader.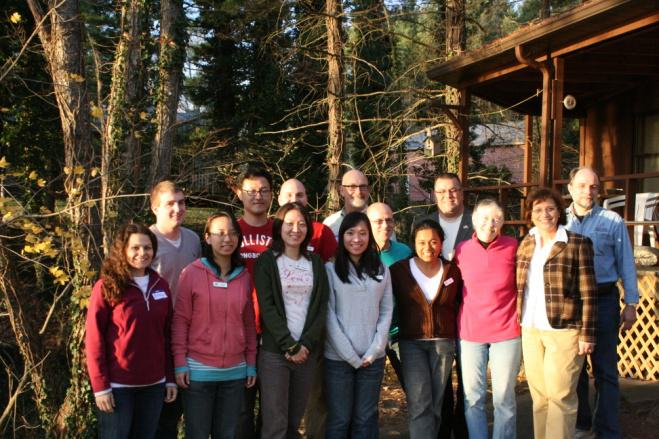 We facilitated our first Mentor Workshop, a training that came about by the feedback of a trainee who suggested we train our mentor volunteers on mentoring.
The placement program was launched, and John was invited to present the work of the WAM House to marketplace leaders in Cleveland, Ohio.
2012-2013
John has presented workshops on developing change agents in Houston, Texas, at the annual ACMI Conference, a special gathering of those who serve international college students. Inquiries about our training from around the world began to come in.  We had our first annual fundraising banquet in Walnut Creek, Ohio, a destination with many key volunteers in the form of Christian Marketplace leaders. Mentoring curriculum was further developed and Leader Roundtables hit full force.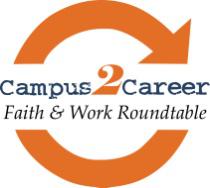 Enrollment skyrocketed from four in 2009 to almost 40 in 2013.  This came with huge increases in staff, mentoring relationships, and countries and continents represented.  A student association at OSU was launched called Campus2Career (which David Foster facilitated.)  Our growth began to stretch our capacity, and the decision was made to set things in motion to hire a part-time administrative helper, our first paid employee other than John.
We also had our first Summer Leadership Camp and John presented a workshop on stewardship at the annual INK Conference, a special gathering of international students.
Near the end of 2013, the organization fully transitioned its name from the WAM House to The Baton Exchange.  The spiritual emphasis of the WAM House training's Kingdom Perspectives track was retained as "The Catalyst Track" within The Baton Exchange training.  God continued to bring around us volunteers and staff of the highest quality. Our Training & Education Advisory Board was formed, consisting of world-class adult educators and trainers. Over the years we have continued to adjust and improve our curriculum.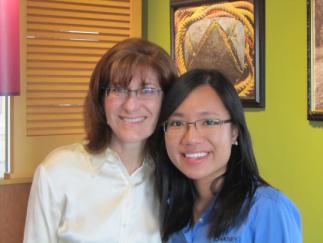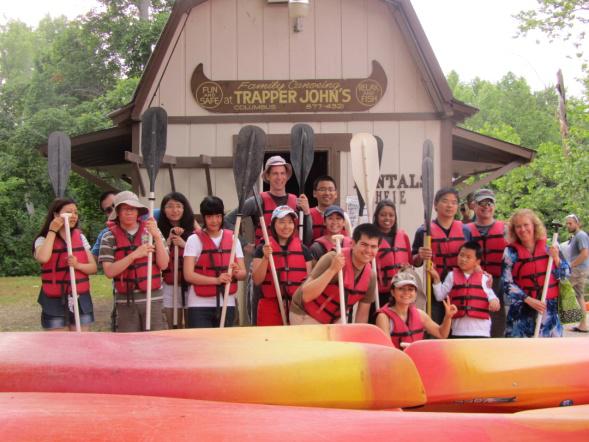 The program had its first placement of a trainee at a collaborating organization. Westerville Area Resource Ministry (WARM) brought on a trainee into its accounting department. A win for all involved!  Leader Certificate levels were also instituted, based on number of hours of training completed (Gold, Silver, Bronze), a departure from the "one size fits all" certificate that had been issued through WAM House.  Over the years, trainees have volunteered serving the inner city poor.  We officially "adopted" Hilltop Christian Community Corporation, an inner city ministry we focus our volunteer efforts through. 
2014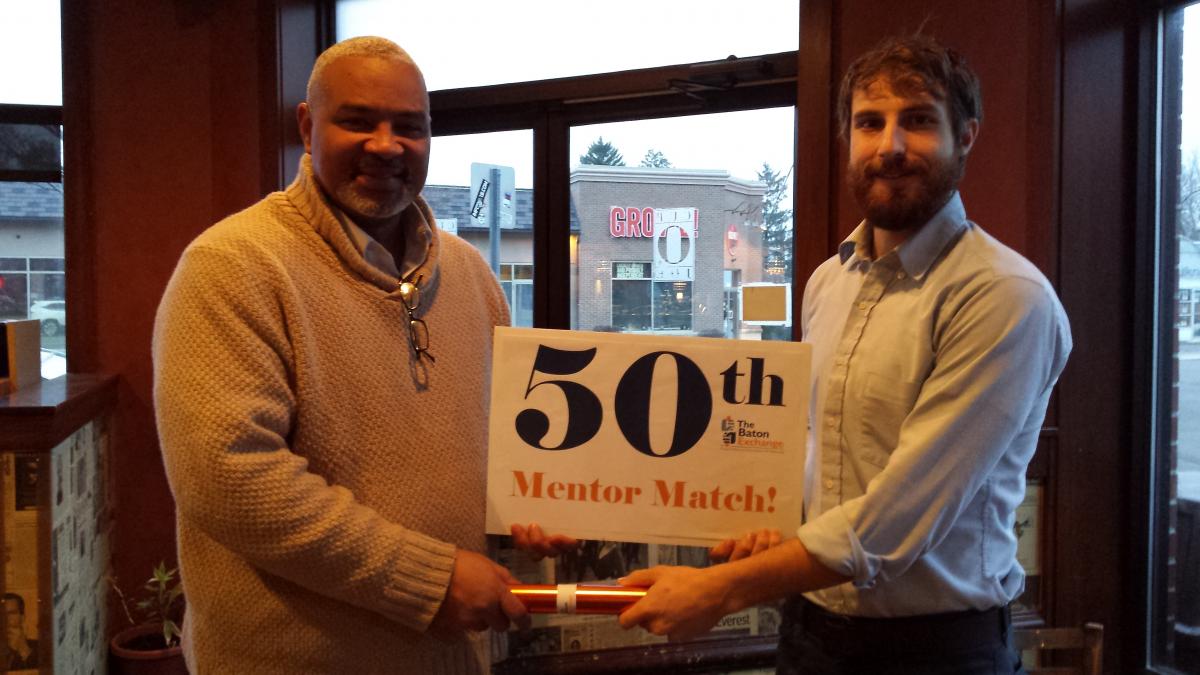 We had our 50th mentor match, matching a young man in social work with Robert Caldwell, an accomplished leader in the field. We also placed our first out of state mentor match, in Seattle, Washington.
We have a plan to scale to 100 Life2Life mentoring relationships in the next 18 months, deepen our curriculum, broaden our trainee referral base, get some of our training on-line, and expand our placements piece.
Our vision continues to be global in nature, with the dream of seeing young adults from around the globe and the marketplace bringing God's redemptive grace, hope, love, justice, societal solutions, blessing and human flourishing, to their cultures. Our cause is, simply stated, "To equip young adults to integrate their faith and vocation as change agents in the global marketplace for Christ."
2015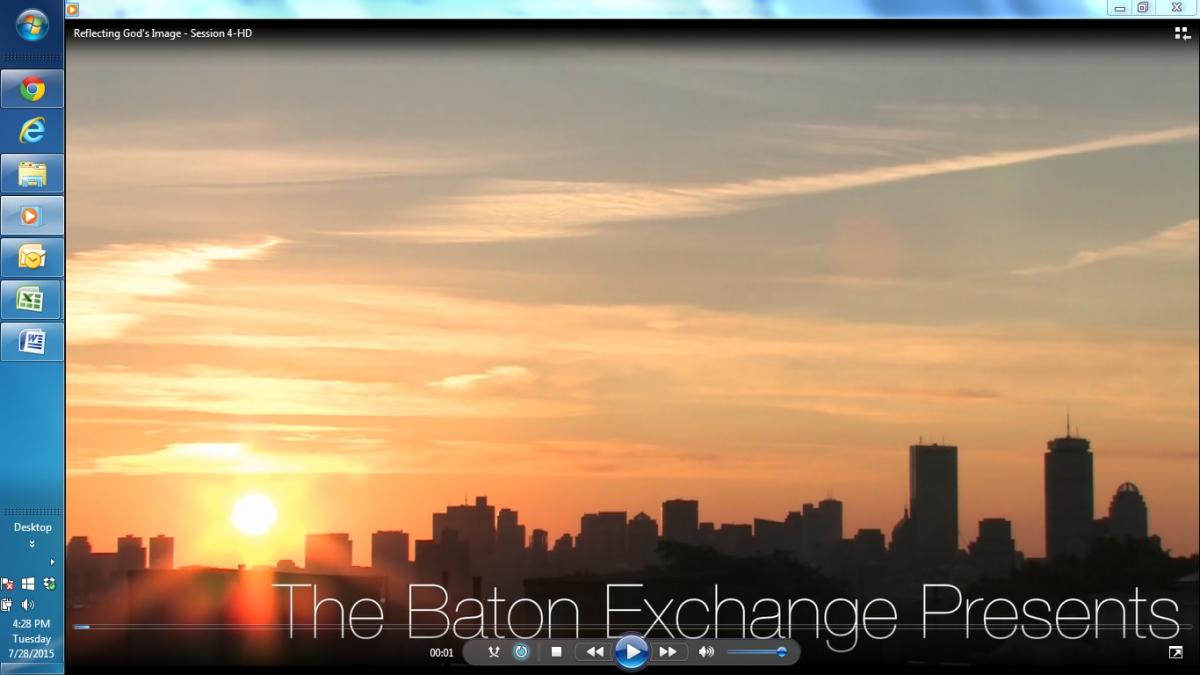 We placed our second out of state mentor match, in Dallas, Texas.
 
The Cohort program for the 2015-16 year is "closed for remodeling" while we make program improvements and focus efforts on the video project.
 
The campus2career on-line video project, titled "Faith, Work, Integrate!" was started. Close to 50 interviews of Christians in the workplace from ten countries and four continents brought the application piece to fifteen topical videos. The video series is designed to help Christian college students and young professionals to flourish in this transitional time of life.
2016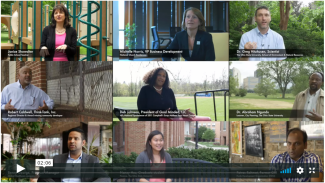 The cohort program of Baton Exchange was renamed Leader Incubator. Recruiting for a 2017-18 cohort began as programming remained on pause during continued development of the Online Video curriculum. Over 160 students from four universities participated in beta testing the resource. Over 80 volunteers helped as well, with local and national leaders from over 40 occupations and ten countries being interviewed for the project. 
2017
We'll add our 2017 history once we've finished making it!