Company Owners & Managers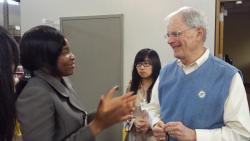 Paid Job Assignments: One way businesses could get involved is by providing paid job assignment opportunities for qualified participants to work for them. The business would give a job description and expectations, the Baton Exchange would screen and direct applicants to the business that might be a likely fit.
Business Tours: Tours provide a way for Trainees to interact with Christian business leaders who are integrating some of the things we are learning in the program. We have visited a number of businesses across the state. Ask how your organization can be included on our tours. We would love to visit!
Contract Services: Organizations can also contract the Baton Exchange, the Baton Exchange's company training business, to do the leadership development of Young Professionals in their employ, creating a win-win-win scenario: employers benefit from the positive changes their employees experience, Young Professionals grow in competence and character, and the Baton Exchange receives revenue for continuing its ministry to Young Professionals.
Collaborative Churches & Para-church Organizations: Collaborative churches and ministries might work with the Baton Exchange by hosting preview sessions, having Baton Exchange staff come in to speak to young adults about Marketplace Ministry topics, participate in mentor drives, be a sponsor, scholarship a Trainee, retain the Baton Exchange for training, etc.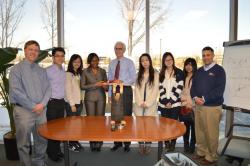 Church Contact: A church contact acts as a communications portal and advocate for the Baton Exchange at their home church. They pass along information, advocate on behalf of the Baton Exchange to their church, and do what they can to encourage others to get involved.
Did You Hear…?
"Thank you for the opportunity to speak at your seminar this morning. I couldn't help but think several of your students could have stayed longer and had continuing discussions on leadership. If I read that correctly, and they would want to talk in more detail, I would love to spend more time with them. I left there totally energized and want to further help if I can." Fred, Volunteer
"I could list countless speakers (testimonies) or teaching, that caused me to leave ...very inspired and challenged...Meeting and interacting with successful Kingdom business people was perhaps my favorite part of WAM House [Baton Exchange]." Peter, Trainee
Partnering Organizations
Many organizations have partnered with us over the years with collaborative events, sponsorships and job placements.