Chatacter Formation Peer Roundtables
When we surveyed employers and young professionals about development needs, the number one area of need was related to character issues. We have selected 15 principles crucial for effectively managing oneself and others. Developing these character traits will help you succeed at work and in life. We use curriculum developed by LaRed Business Network, which has been used in close to 90 countries, "from the prisons to the palace." The 15 character & leadership principles we focus on are:
Sowing & Reaping
Developing People
Forgiveness
Understanding People
Generosity
Motives
Honesty
Hard Work
Restraing (of your tongue)
Humility
Ambition
Responsibility
Proper Thinking
Dependability
Correction
Attitude
Courage
Leader Roundtables
From Fortune 500 Executives and civic leaders to small business owners and coaches, you will interact with numerous leaders over the course of the training year in informal, small group setting discussions about what they have learned about leadership. Common questions we ask during these one hour sessions are: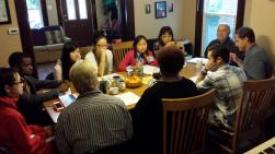 What have you learned about leadership that you wish you would have known in your 20s?
What have you been learning about integrating your faith, work, and leadership?
What are some of the biggest hindrances to a young adult in advancing into leadership roles?
What have been the difficult parts of your career path and what have you learned from them?
Trainees have ample opportunity to dialogue with leaders during this time.